Sonia Prina at the Carnegie Hall for a spectacular Ariodante!!!!!!
CARNEGIE HALL PRESENTS: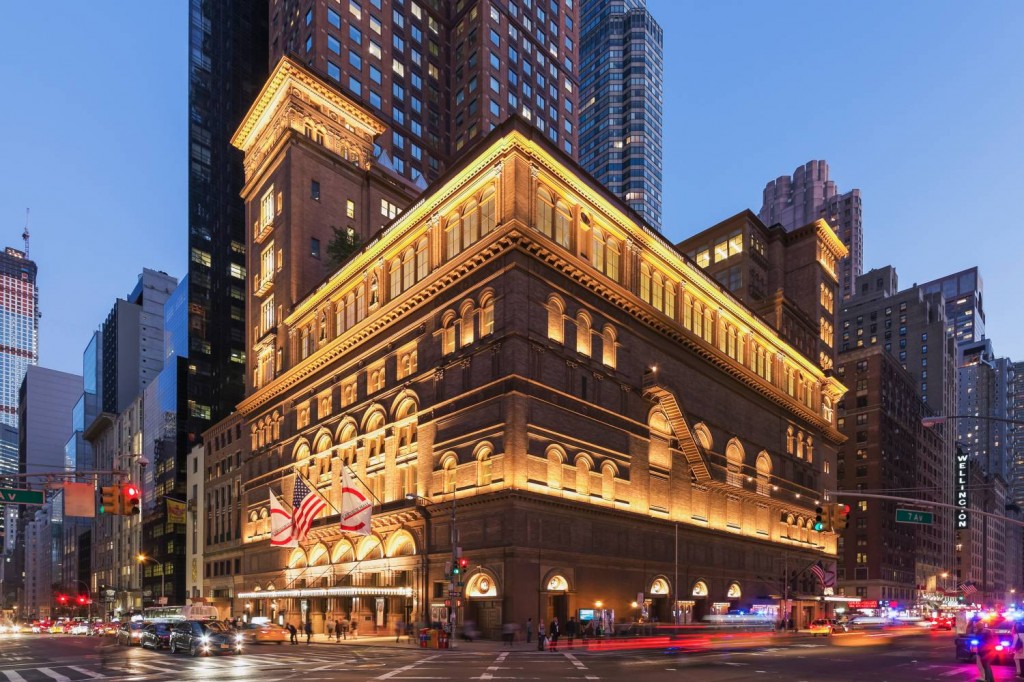 Performance Sunday, April 30, 2017 | 2 PM
Handel's Ariodante
Performers:
The English Concert
Harry Bicket, Artistic Director and Conductor
Joyce DiDonato, Mezzo-Soprano (Ariodante)
Sonia Prina, Contralto (Polinesso)
Christiane Karg, Soprano (Ginevra)
Mary Bevan, Soprano (Dalinda)
David Portillo, Tenor (Lurcanio)
Matthew Brook, Bass-Baritone (King of Scotland)
Tyson Miller, Tenor (Odoardo)
At a Glance
With Ariodante of 1735, Harry Bicket and The English Concert complete the cycle of Handel's three great last operas being presented at Carnegie Hall. The second of the sequence, flanked by Orlando and Alcina, Ariodante was Handel's superb response to a situation that would have silenced a lesser composer. At this time, he was facing the sternest challenge of his operatic career: the arrival in London of Nicolo Porpora's Opera of the Nobility, backed by none other than the Prince of Wales. With the Prince's financial support, Porpora was able to steal away nearly all of Handel's vocal stars as well as the theater he used to present his operas. With his back to the wall, Handel was rescued by a previous theatrical rival. And he also rescued himself with his genius, creating one of his most gorgeous and inventive scores for a new group of younger vocal talents, including the remarkable 30-year-old Italian castrato Giovanni Carestini in the title role. Today, Ariodante has become a trouser role for a virtuoso female mezzo-soprano.
Mezzo-soprano Joyce DiDonato is first among equals in a spectacular cast (featuring Prina as Polinesso) when she sings the title role of Ariodante in this season's installment of Carnegie Hall's critically acclaimed cycle of Handel's operas in concert. A brilliantly melodic work, the opera features outstanding arias for each of the principal singers, including Ariodante's melancholy "Scherza infida" and show-stopping "Doppo note."
Harry Bicket and The English Concert bring authentic Handelian brilliance to this marvelous opera.
GEORGE FRIDERIC HANDEL
Ariodante, opera in three acts
From 1711, when he premiered his opera Rinaldo, George Frideric Handel had been the toast of London. Beginning in 1720, he reigned supreme over the world of Italian opera seria at his annual seasons at the Royal Academy of Music, though battling a potent rival in the Italian composer-impresario Giovanni Bononcini. By the end of the decade, however, trouble was brewing. Handel's sturdy patron King George I died in 1727. A bigger problem came the next year: the triumphant London production of John Gay's The Beggar's Opera, an English-language comic adventure with music inspired by popular ballads. Suddenly, the imported Italian opera seria seemed an artificial and elitist art form to the British public, and both Handel's and Bononcini's companies sank in a sea of debt.
But the enterprising Handel—who possessed an extraordinary ability to reinvent himself and his art whenever circumstances demanded it—in the next decade found a fresh opportunity at the King's Theatre. There, in 1733, he unveiled the magic-opera Orlando—the first of the great trio of operas, followed by Ariodante and Alcina, with which he capped his stage career. Nevertheless, though Orlando was a popular success, even greater problems lay ahead. Yet another formidable rival appeared: the Opera of the Nobility led by Nicola Porpora, an able composer and moreover Italy's most famous vocal pedagogue whose pupils included the legendary castrato soprano Farinelli. Not content with having Farinelli on his roster, Porpora lured away many of Handel's vocal stars, including the castrato contralto Senesino, creator of the role of Orlando, with fatter contracts. Deprived of his singers and with his theater now occupied by Porpora's company, Handel faced professional ruin.
Handel's unlikely savior was the impresario John Rich, who ironically had been the producer of The Beggar's Opera. Flush with profits from that show, he built a handsome new opera house at Covent Garden on the site of the present Royal Opera House and, in 1734, invited Handel to go into partnership with him there. Between August and October of that year, Handel composed his first opera for Covent Garden, the vocally resplendent Ariodante, and introduced it there on January 8, 1735.
Like Orlando, the plot of Ariodante was taken from Ludovico Ariosto's epic poem of 1532, Orlando furioso, containing a series of stories about Christian knights battling against the Islamic Saracens in the Middle Ages. The romantic episode of Ariodante and Ginevra comes from cantos four through six and is set in Scotland, though there is little local color involved, perhaps because Ariosto had heard that medieval Scottish ladies accused of infidelity would be put to death unless a champion proved their virtue in a successful trial of combat. The story was adapted as an opera libretto for another composer by Antonio Salvi, a favorite Handel librettist, and was first used in Florence in 1708.
A cast of new young singers inspired the vocal riches of Ariodante. The only veteran star that had remained loyal to the composer was the Italian soprano Anna Maria Strada, and Handel created the role of Ginevra for her. He scored a coup in obtaining the services of the brilliant young Italian castrato Giovanni Carestini for the role of Ariodante; of him, the English musical chronicler Charles Burney wrote, "Whoever has not heard Carestini does not know the perfection of singing." In his arias for Ariodante, Handel exploited Carestini's phenomenal abilities in singing coloratura, his very large range, and his emotional expressivity. Other gifted newcomers were the young English soprano Cecilia Young for the role of Dalinda, the precocious 17-year-old English tenor John Beard for Lurcanio (Handel would later write the title role of Samson for him), and the German bass Gustav Waltz (later to be a mainstay of Handel's oratorios) for the King of Scotland. Rich's theater also offered the services of the exquisite French dancer Marie Sallé and her troupe, and Handel would include wonderful ballet music for them in both Ariodante and Alcina.
Musical Highlights
In Act I, despite the fact that Polinesso is already hatching his dastardly plot against Ariodante and Ginevra, the mood remains predominantly light and joyous. To match this idyllic state, Handel sets most of the act's music in the major mode. However, the imposing overture is the exception; it is in G minor and forecasts that Ariodante will tell a more serious and profound story than a simple romance. Then the key brightens to G major, and we find Ginevra happily adorning herself to meet Ariodante ("Vezzi, lusinghe, e brio").
We don't meet Ariodante until the fifth scene when, awaiting Ginevra in the royal garden, he sings the brief aria "Qui d'amor"—Handel avoids turning it into a protracted da capo form—expressing the unity between the beauty of the garden and the happiness in his heart. Ginevra arrives, and they pledge their undying love in an equally brief but ravishingly lovely duet, "Prendi, prendi, da questo mano." Here Handel demonstrates his penchant throughout Ariodante for moving the story rapidly forward: As the lovers begin their da capo reprise, they are suddenly and charmingly interrupted in mid-phrase by the arrival of Ginevra's father, the King. All is well, though, for he blesses their union.
Now in a succession of three contrasting arias, these characters express their individual reactions to this happy state of affairs. Ginevra's "Volate, amori" is a rollicking dance in a lilting 6/8 meter; her giddy joy overflows in coloratura roulades matched by the orchestral violins. The King prepares for the wedding festivities with a bravura bass aria, "Voli colla sua tromba," enriched by the molten brilliance of horns. Finally, we hear the first of the three major arias Handel created for the virtuoso Carestini: "Con l'ali di costanza," a formidably fast, lavishly florid da capo in A major.
As the act draws to a close, Ariodante and Ginevra celebrate their upcoming nuptials "in a delightful valley." A golden-toned sinfonia glowing with horns sets the pastoral scene. The chorus joins the lovers in their high-spirited duet of happiness, which is then echoed by the orchestra in the closing sequence of dances.
Act II takes place at night, and the mood is transformed first to nocturnal and then to moral darkness. Minor keys dominate as Polinesso's plot poisons the perfection of Ariodante and Ginevra's love. The act opens with Handel's most magical programmatic sinfonia: a concise but intensely atmospheric portrait of the garden outside Ginevra's chamber, as the moon rises in the violins' slowly ascending melody over a conspiratorial countermelody in the cellos.
Polinesso's plot with the gullible, lovesick Dalinda masquerading as Ginevra works all too well, and Ariodante, convinced of the Princess's infidelity, is plunged into despair. The second of his major arias, "Scherza infida," is one of the greatest arias Handel ever wrote and was designed to show off the other side of Carestini's artistry: his ability to sing with deep emotional expressiveness. In the key of G minor, this monumental da capo arrests time in its tracks as it explores the torments of a broken heart. The orchestral colors—sighing muted strings, plangent woodwinds moaning in anguish—are a stroke of genius. In the aria's B section, Handel harmonically twists the knife deeper in the wound.
The despairing Ariodante throws himself into the sea. His presumed death is announced to the King, who informs Ginevra of the tragedy. But as she collapses in grief, Lurcanio appears and declares her guilty of Ariodante's death. In the fiery coloratura aria "Il tuo sangue," fueled by ferocious Allegro writing for the strings, he demands that the King put aside his paternal feelings and punish Ginevra for her treachery.
When the King accuses his daughter of unchastity, she responds in a powerful accompanied recitative that sets the scene for her noble lament in E minor, "Il mio crudel martoro." Expressing Ginevra's state of prostration and resignation to her fate, the vocal line here is remarkably subdued, but the weeping patterns in the violins reveal the underlying suffering. This aria balances Ariodante's "Scherza infida" as the twin tragic centerpieces of the opera.
In staged performances of Ariodante, Act II closes with a remarkable ballet sequence that represents the dreams that torment Ginevra's overburdened psyche. Paying tribute to Sallé and her troupe, they echo the French dance styles of Lully and Rameau.
An unwilling survivor, Ariodante reappears to open Act III. In a compact but powerful sinfonia and arioso in D minor, "Numi! Lasciarmi vivere," Handel describes his weary footsteps with heavy, downward-dragging dotted rhythms as he curses the gods for forcing him to live. After he saves Dalinda's life, she reveals Polinesso's deception. Dalinda voices her anger at Polinesso's betrayal of her love in a da capo aria of masterful compression, "Neghittosi, or voi che fate." Racing strings mingle with rapid vocal coloratura in this stunning display of feminine fury and disillusionment.
Meanwhile, the perfidious Polinesso offers himself to the King as the knight who will champion Ginevra's virtue in the trial by combat. He masks his evil in a guise of heroic virtue in the bravura aria "Dover, giustizia, amor": a gift to any contralto with the requisite agility and breadth of range. Before the combat, Ginevra, whose life depends on the outcome, begs for her father's love and forgiveness. Her D-minor aria "Io ti bacio" is extraordinary in its simplicity and restraint, the accompaniment sometimes reduced to just a single bleak-sounding cello or violin.
The plot now resolves itself quickly. Polinesso is defeated and killed by Lurcanio. Ariodante steps in as Ginevra's champion and reveals Polinesso's treachery. With justice restored and Ariodante and Ginevra reunited, Handel uncorks the title character's most spectacular vocal showpiece: the virtuosic "Dopo notte" in brilliant D major. Its coloratura roulades are intensified by vivid rhythmic play, with syncopations and hemiolas spicing the rapid triple-meter flow.
Two couples are now to be wed. First, Lurcanio and Dalinda offer their gently lyrical love duet "Dite spera, e son content," in which Dorinda's previous passion for Polinesso is deftly smoothed away in the middle section. In their more elaborate duet, "Bramo aver mille vite," Ariodante and Ginevra express their joy in their reunion; this superb duet, embellished with triplet roulades, displays an exceptionally beautiful blending of two treble voices. Ariodante then closes with a splendid scene in the great hall of the castle uniting all the opera's musical forces to praise the ultimate triumph of virtue and love.