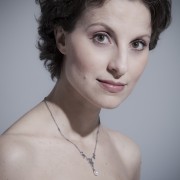 Photo gallery
Video gallery
News
Repertoire
| | |
| --- | --- |
| | Special Projects |
Raffaella Milanesi
soprano
representation zone: General Management - World
Highlights
– Mozart's Nozze di Figaro (Cherubino) – Opera National Wallonie – C. Rousset
– Cavalli's Calisto (Giunone) – Opéra National du Rhin – C. Rousset/M. Clément
– Haendel's Alcina (title-role)- Shangaï Festival – D. Stern
– Mozart's Mitridate (Sifare) – Drottingholm Slottsteater – D.Stern / F.Negril
– Mozart's Don Giovanni (Donna Anna) – Grand Theatre de Geneve, Firenze Teatro della Pergola
– Mozart's Nozze di Figaro (Contessa) – Rennes & Perm (Russia) – T.Currentzis
– Myslivecek's Olimpiade (Megacle) – Prague National Theater, Luxemburb, Dijon
– Monteverdi's Orfeo (Proserpine) – La Scala – R. Alessandrini/R.Wilson
BIOGRAPHY
Italian soprano Raffaella Milanesi completed her studies in her hometown, Rome, at the Accademia Nazionale di Santa Cecilia in 1997.
She is a regular guest at the opera houses of Europe : Amsterdam, Antwerpen, Bordeaux, Brussels, Lausanne, Luxembourg, Madrid, Montpellier, Paris, Salamanca, Toulouse, Rennes, Vienna, La Fenice, Opéra National du Rhin, Grand Theatre de Geneve, La Scala, Teatro S.Carlo in Napoli, Wien Konzerthaus, Dresden Philharmony etc. as well as Festivals like Ambronay, Beaune, Eisenstadt, Innsbruck, Halle, Praha, Innsbruck, Potsdam, Handel Festival in Karlsruhe…
She has worked with such distinguished conductors as: Rinaldo Alessandrini, Fabio Bonizzoni, Giuliano Carella, Ottavio Dantone, Alessandro de Marchi, Adam Fischer, Nicola Luisotti, Vaclav Luks, Andrea Marcon, Enrique Mazzola, Marc Minkowski, Hervé Niquet, Philippe Pierlot, Donato Renzetti, Christophe Rousset, Andreas Spering, David Stern and directors such as Christof Loy, Pier Luigi Pizzi, Robert Wilson, Daniele Abbado.
Her discography includes: La Capricciosa corretta (Cilla) and La grotta di Trofonio (Ofelia) with Christophe Rousset for Naïve and Ambroisie; Il Re Pastore (Tamiri), Idomeneo (Elettra) and La Clemenza di Tito (Annio) with Adam Fischer and Danish Radio Sinfonietta; Handel's Cantate Italiane with Fabio Bonizzoni and La risonanza (for Glossa); Tolomeo e Alessandro (Alessandro) with Alan Curtis (for Deutsch Grammophone); Haydn's Acide (Galatea) (For BIS records) ; Armida al campo d'Egitto (Erminia) with R.Alessandrini (for Naive); Cupido tu vedi ,Vivaldi's cantatas with Accademia Ottoboni (for Stradivarius); A voi ritorno, Leo and Porpora's cantatas with Insieme Strumentale di Roma; Il Sogno e La Dora festeggiante by Martin Y Soler and Sesostri by Terradellas with RCOC (for Harmonia Mundi); Bononcini Stabat Mater and Messa a Cinque with R. Alessandrini (for Naive), Gluck's Clemenza di Tito with Werener Ehrhard for Harmonia Mundi and to be released : Dido and Enea title role.
In these last few years she appears in La Contessa in Le Nozze di Figaro, Haydn's Berenice, Sandrina in Haydn`s Infedelta delusa, many projects of Pergolesi Argene in Olimpiade; Pergolesi's Sallustia in Jesi (recorde live on dvd), and Aristea in L'Olimpiade and Monteverdi with Proserpina in Monteverdi`s L`Orfeo and Giunone in Il Ritorno di Ulisse in Patria at La Scala di Milano, Zidiana in Il Teuzzone by Vivaldi with Jordi Savall in Versailles (recorded on CD for Naïve Vivaldi Collection) etc.
From last engagements: Lisaura in Handel Alessandro,  at Opera de Rennes; Megacle in Mislivececk's Olimpiade in Prague and european tour with Vaclav Luks and Ursel Hermann; Annio in La Clemenza di Tito at  Gran Teatro La Fenice in Venice with Ottavio Dantone and Ursel Hermann; La Stellidaura Vendicante (title-role) with A.de Marchi in Potsdam; Sifare in Mozart's Mitridate at Drottinghoms Slottsteater with David Stern;  Alcina (title-role) with David Stern in Shangaï, Paisiello's Fedra (title-role) with R. Alessandrini, Jomelli's Isola disabitata at Teatro San Carlo where she will be also Madama in Paisiello's Grotta di Trofonio, etc.
Forthcoming seasons she will sing Donna Anna in Mozart's Don Giovanni at Teatro della Pergola di Firenze, San Guglielmo d'Aquitania (title-role) by Pergolesi in Jesi con Christophe Rousset with whom she will be also Cavalli's Calisto (Giunone) at Opéra National du Rhin with C. Rousset and a new production of M. Clément etc.

Last edited  July 2016
Download CV  : MILANESI Raffaella CV

Download foto HD