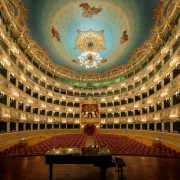 Giulia Semenzato as Zerlina in Don Giovanni at Teatro La Fenice
Giulia Semenzato, Zerlina in Don Giovanni at Teatro La Fenice, conducted by Stefano Montanari and directed by Damiano Michieletto.
Don Giovanni is an opera in two acts with music by Wolfgang Amadeus Mozart and Italian libretto by Lorenzo Da Ponte. It is based on the legends of Don Juan, a fictional libertine and seducer. It was premiered by the Prague Italian opera at the Teatro di Praga on 29 October 1787. Da Ponte's libretto was billed, like many of its time, as dramma giocoso, a term that denotes a mixing of serious and comic action. Mozart entered the work into his catalogue as an opera buffa. Although sometimes classified as comic, it blends comedy, melodrama and supernatural elements. A staple of the standard operatic repertoire, Don Giovanni is currently tenth on the Operabase list of the most-performed operas worldwide. It has also proved a fruitful subject for writers and philosophers.
© Michele Crosa
Conductor: Stefano Montanari
Director: Damiano Michieletto
Sets: Paolo Fantin
Costumes: Carla Teti
Light designer: Fabio Barettin
running time: 3h10′
Act 1: 1h25′
interval: 0h25′
Act 2: 1h20′
Cast
Don Giovanni
Adrian Sampetrean 
(13, 15, 17, 19, 21)
Alessandro Luongo 
(14, 18, 20, 22, 24, 25, 26)
Leporello
Omar Montanari (13, 15, 18, 20, 22, 25)
Andrea Vincenzo Bonsignore (14, 17, 19, 21, 24, 26) 
Donna Anna
Francesca Dotto (13, 15, 18, 20, 22, 25)
Valentina Mastrangelo (14, 17, 19, 21, 24, 26)
Donna Elvira
Carmela Remigio (13, 15, 18, 20, 22, 25)
Paola Gardina (14, 17, 19, 21, 24, 26)
Don Ottavio
Antonio Poli (13, 15, 18, 20, 22, 25)
Patrick Grahl (14, 17, 19, 21, 24, 26)

Masetto
William Corrò (13, 15, 18, 20, 22, 25)
Davide Giangregorio (14, 17, 19, 21, 24, 26)

Zerlina
Giulia Semenzato (13, 15, 18, 20, 22, 25)
Irene Celle (14, 17, 19, 21, 24, 26)

Il Commendatore ⎮ Attila Jun
La Fenice Choir & Orchestra
Chorus Master ⎮ Claudio Marino Moretti
La Fenice production