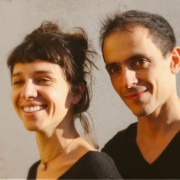 Dido and Aeneas Purcell's spectacular staging of Roussat and Lubek for the first time in Liège!
"the present release (for Alpha) succeeds as well as any, while still coming across as somewhat distanced. " Gramophone

DATES : 

Tue, 09/05/2017 to Sun, 14/05/2017
First time at the Opera de Wallonie.
Following the fall of Troy, Æneas flees to Carthage where the beautiful Dido reigns. They fall in love. A sorceress who is hostile towards the queen incites Æneas to fulfil his destiny and leave her. Torn between love and duty, he decides to stay, but Dido, grieved by his hesitation, chases him away. As soon as he departs, she commits suicide in a poignant adieu.
Conductor: Guy VAN WAAS
Direction, set designs, costume designs & choreography: Cécile ROUSSAT and Julien LUBEK
Lighting designs: Marc GINGOLD
Choirmaster: Thibaut LENAERTS
---
Dido: Roberta INVERNIZZI *
Æneas: Benoit ARNOULD *
Belinda: Katherine CROMPTON *
Sorceress and Sailor: Carlo ALLEMANO *
Second woman: Jenny DAVIET *
First witch: Caroline MENG *
Second witch: Benedetta MAZZUCATO *
Dancers: Sayaka KASUYA, Sarasa MATSUMOTO
Acrobats: Edwin CONDETTE, Tarzana FOURES, Mélanie MALET, Adèle ALAGUETTE, Antoine HELOU, Ahmed SAID
Spirit: Kamil BEN HSAIN LACHIRI
Doublure "Spirit": Rudy GODDIN
---
Orchestra: Ensemble Les Agrémens
Choirs: Chœur de Chambre de Namur
Production: Opéra de Rouen Haute-Normandie in collaboration with Le Poème Harmonique
With the support of the Fédération Wallonie-Bruxelles,  the Ville de Namur, the Province de Namur and the Port autonome de Namur.